Accountants Berwick
We are a small boutique accounting firm based in Cranbourne that borders the suburbs of Berwick, Lynbrook and Carrum Downs.
Here at Hyde Cooper Wells we are different to most accounting firms because we view the tax return as the start of the client process, not the end. Our mission is to help you fast track your business success.

O
Integrity and confidentiality are assured and we are committed to service excellence. Our team of dedicated accountants undergo continuous professional development so you enjoy access to the best technical tax and accounting advice available. No job is too big or too small and we adopt a hands on approach with our clients including visiting your business whenever possible. We train you to use the right accounting software to minimise compliance costs and guarantee you personal service with a pro-active approach.
A
part from servicing the local area we also service a significant number of interstate and country clients. Our focus on niche services including the establishment of self managed superannuation funds has contributed to our growth and our expertise in the area of business start ups has earnt us a specialist reputation. Over time we have also developed expertise in certain industries including plumbers and electricians plus we also service a number of earth moving and excavation operators and gym owners. In addition, we also work with a number of real estate agencies, market gardeners and poultry suppliers plus registered training organisations.

Our marketing services distinguish us from other local accounting firms. We offer you advice and assistance with key issues including branding, your website's features, functionality and content plus search engine optimisation. We also offer you help with digital publishing including your corporate brochure and newsletter plus we can help you harness the power of social media to win more business. Client referrals are important to us and we strive to earn your trust and ongoing referrals by delivering practical strategies and financial solutions that are both tax and cost effective. We pride ourselves on our accessibility and caring approach which includes returning your calls and emails as soon as practically possible.
I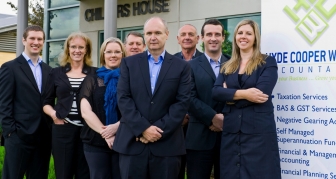 n summary, we are so much more than just tax accountants. We are 'business and profit builders' who provide strategic advice and practical business solutions that could give you a serious competitive edge in your industry. We work hard to understand your business and if you're an ambitious business owner of farmer looking to boost your current results or if you're looking to get your business off to a flying start we invite you to contact us today. You can expect practical business, tax, marketing and financial advice that could have a profound effect on your future business profits. To book your FREE, one hour introductory consultation simply call us on (03) 5995 3466 or complete your details in the box at the top right hand side of this page and we will be in touch.

Hyde Cooper Wells - Accountants & Business Advisors